Porsche to revolutionise electric van design in the future
27 Jul 2021
To shape the future, Porsche designers cross boundaries. They take the best from traditions and originsthe brand essence, the values that have made the company successful. At the same time, they boldly add something new. To do so, they study people and their habits in general and Porsche drivers in particular. In the past, we used to type our destination into the navigation system before a journey. Today, we prepare the route on our smartphones while sitting on the sofa, and then send it to the car. For Ivo van Hulten, director of user experience design (UX), the possible has long been taken for granted. At the Weissach Development Center, UX stands for everything you can experience in and with a Porsche. It's about a desire for convenience, flexibility, and timelinesscondensed into a brand experience.
Together with chief designer Michael Mauer and Markus Auerbach, head of interior design, van Hulten experiments every day with what will meet these needs in a few years' time. The designers keep their minds fresh with the first principle thinking method. In doing so, they move away from familiar analogies and break hypotheses down into their smallest components. They focus not on familiar forms but on functions that might be of interest in the future. They ask themselves what a Porsche could beand what it could not be. This process provides answers to questions that no one has asked before.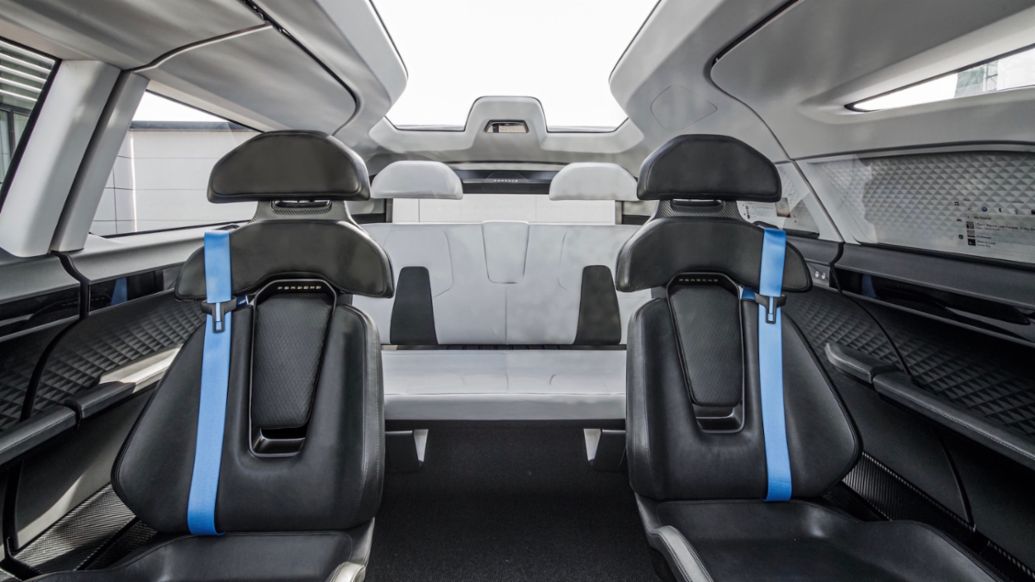 I
Interior of the future
We thought about how we could still give a distinctly Porsche flair to a passenger compartment that is so far removed from the classic sports-car interior. And how autonomous driving could be designed, Mauer explains. The second aspect is certainly worth discussing. After all, sports cars are a symbol of self-determination. We don't assume that our customers want to give up using a steering wheel, says Mauer. But in order to be able to think freely about the future, boundaries must be crossed when carrying out these finger exercises. This, he says, is how the centered driver position of the Renndienst came about. When I want to drive, I have more cockpit feeling than in any other car. And when I don't, the driver's seat can be rotated 180 degreeswith one swivel, it turns to face the other passengers. We worked on materializing these basic ideas for about a year, the chief designer explains.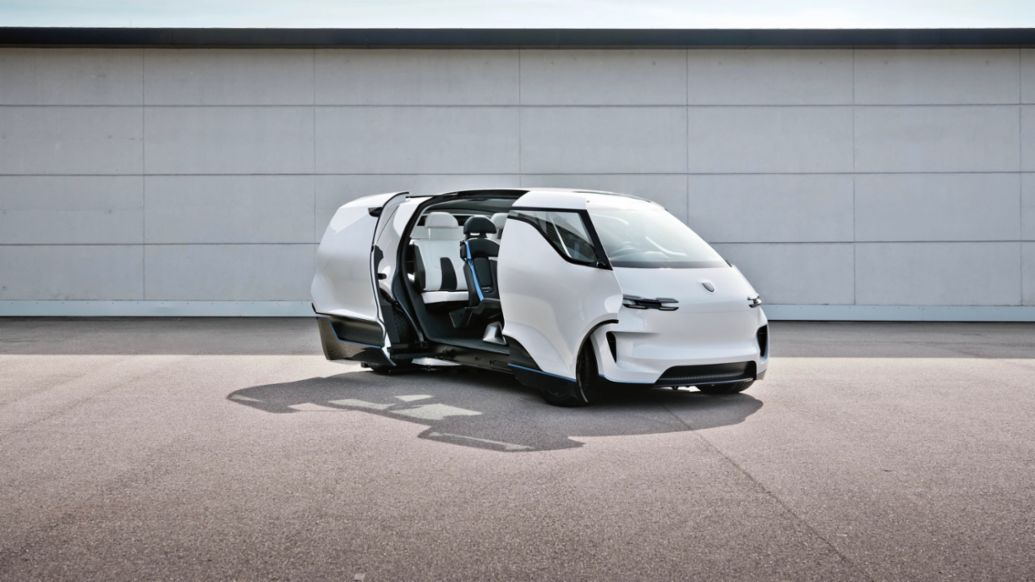 The overall UX, when it comes to interior design, is dedicated to the digital lifestyle and the relationship between driver, passengers, and vehicle. In the Taycan, we have shown how much we think ahead, says forty-three-year-old van Hulten. Now we were looking at a possible next overall innovation. For this, we thought and worked from the inside out.€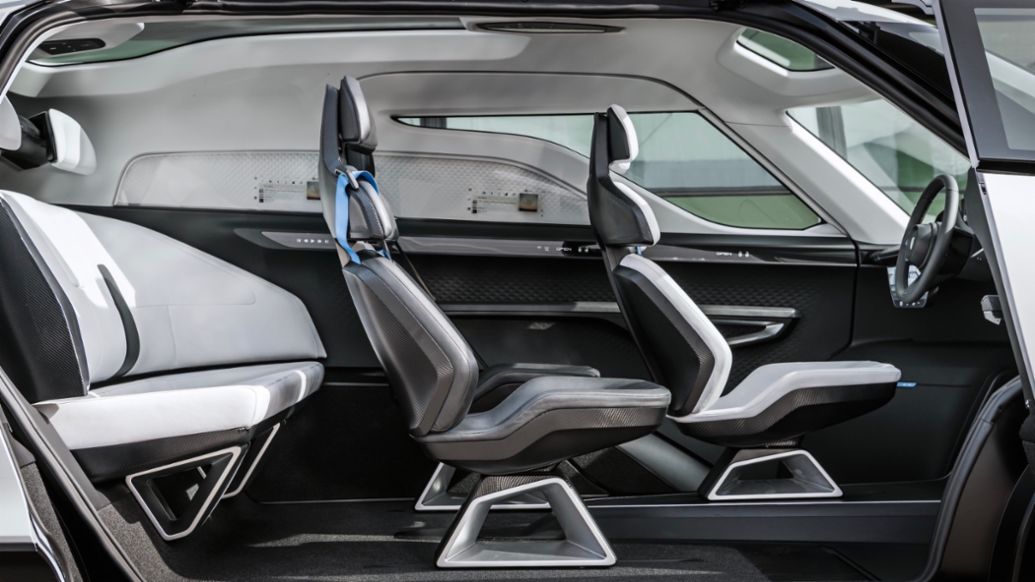 The side windows are designed asymmetrically. One side is closed; passengers can retreat there, explains interior design chief Auerbach. The other side enjoys a large window bank for an unobstructed view outside. When we close the doors, the interior feels like a protective capsule. A feeling of security and comfort dominates the modular interior. The passengers in the first row sit offset to the right and left in ergonomically shaped bucket seats. They can enjoy an unobstructed view of the road ahead and of their own dashboard screens. The rear seat headrests are installed in a floating position, which allows a clear view through the rear window. The luxury of adaptable space is made possible by the powertrain: fully electric and hidden in the underbody.
UX as a success factor
Ivo van Hulten deals with the clientele of the futurethe smartphone generation. In the past, the hunger for something new was satisfied with the purchase of the product. Today, many young people are no longer just fascinated by the aesthetics of a product, but by the opportunities it offers them. The aesthetics of the interior therefore depend on many more factors than just shapes and materials. The questions are: Is the interior modular enough to adapt to changing circumstances even a few years after purchase? Will I be able to run updates remotely and around the clock? He is confident of finding answers in the form of a new aesthetic: We are building on an impressive brand history with the UX departmentand are boldly looking far into the future.€
 A sense of space with a soul
The visions on which the specialist departments in Weissach work together are complex because they design spaces where people sit. Seen from the outside, a Porsche is a sculpture, a work of art. The interior adds another dimension. Cars with an unsatisfactory interior do not survive for long, because no emotional connection can be built with them, summarizes Auerbach. For the interior designer, it is clear that there will still be switches and buttons in the future: The balance between analogue and digital control panels is shifting. Nevertheless, haptic buttons in the vehicle cockpit are perfect because you don't have to take your eyes off the road. However, if one day, as the driver, I have much less to do, that may change too. But we cannot solve everything through optics, because otherwise we lack dimensions.€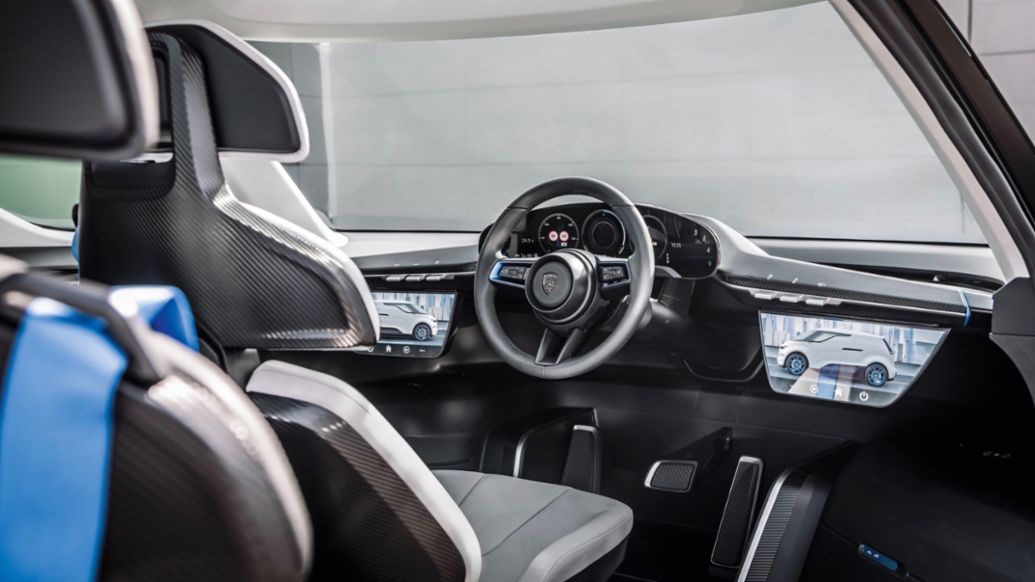 Source: Porsche